NetSuite - The leading Web-Based Business Suite
Full circle software covering accounting, inventory management (ERP), customer relationship management (CRM), and E-commerce. All in one system.
Business processes and reports in real time.
Massive savings with maintenance and license costs, thanks to on-demand software infrastructure.
Access to all the information you need – anytime, anywhere.
An open, flexibly expandable software platform.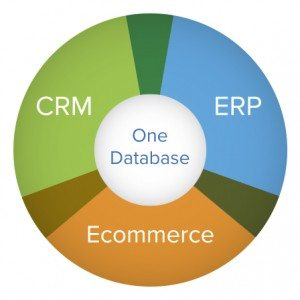 Integration in one Single System
The NetSuite Business Suite integrates accounting, merchandise management, project system, customer relationship management, and e-Commerce in a single system. You may introduce the complete Business Suite to control your business processes from the get-go or slowly start with a sub-module, for example, CRM, and add additional functions later.
All you need are internet-connected devices –NetSuite provides and operates the solution. Alta Via Consulting will advise you professionally on what suits you best and accompany the implementation.
NetSuite's financial management solution is used by thousands of organizations to manage their accounting needs. This software accelerates your financial closing, provides an awesome expense management, offers streamlined and auditable revenue management, and ensures complete real-time visibility of the financial performance of your business.
NetSuite's financial management seamlessly integrates with all NetSuite order management, inventory, CRM, and E-commerce functions. Thus, it can streamline critical business processes, such as quote-to-cash and be able to work from a single source of finance, sales, and customer data.
Supply Chain and Inventory Management
NetSuite supply chain management software offers a complete set of inventory management, manufacturing, and purchasing capabilities that helps move inventory to the right places, at the right time, at the right cost.
Gain an in-depth, real-time view of key suppliers, inventory, and shop floor performance indicators. Self-service capabilities for partners, vendors, and customers improve collaboration throughout the entire supply chain. With NetSuite, you'll be able to better manage inventory levels and costs—and better meet fulfillment expectations, improving customer service.
Simplify your order management. Generate transparency over the entire sales process, from sales and warehouse processing to delivery and invoicing. Convert offers into orders with just one click. Simplify order fulfillment and reduce processing time with a streamlined Pick-Pack-Ship process. Master data for articles and prices are the basis for a fast and error-free invoice processing.
Order and Billing Management
NetSuite fast-tracks your order-to-cash process by eliminating manual bottlenecks and errors and establishing a smooth flow from sales quote to approved order, successful order to fulfillment, and timely invoicing to payment. NetSuite's order and billing management capabilities integrate your sales, finance, and fulfillment teams—improving quote accuracy, eliminating billing errors, strengthening revenue recognition processes, and driving fulfillment accuracy and efficiency.
Purchasing can be a time-consuming and inefficient ordeal, especially when requests for goods and services have to be processed manually using a combination of phone calls, emails, paper catalogs, and faxes. NetSuite's procurement solution helps companies buy goods and services at the best cost and in a timely manner by saving employees' valuable time with easy-to-use capabilities, reducing costs by channeling purchases to approved suppliers and pre-negotiated contracts, and improving visibility by rendering real-time information into company spend and vendor performance.
NetSuite also streamlines and improves the accuracy of the procure-to-pay process by automating and linking key procurement transactions and providing approval and matching workflows to support internal controls and compliance requirements.
While maximizing the value of your company's most important resource, its workforce, you also need to minimize what you spend on managing it. Additionally, as your organization grows, finding more cost-effective, flexible solutions to administer your growing, the diverse and dispersed workforce becomes a necessity.
NetSuite Human Capital Management provides a unique advantage in addressing these challenges through an integrated, intuitive, flexible, and comprehensive HCM solution.
Revenue Recognition Management
NetSuite's revenue recognition management solution helps companies comply with accounting standards and report financial results in a timely manner. Whether your business conducts sales transactions that consist of products or services, or both, and, whether these transactions occur at a single point in time or across different milestones, NetSuite's revenue recognition solution will help you schedule, calculate and present revenue on your financial statements accurately. Automate revenue recognition with financially intelligent capabilities to report results in accordance with accounting standards.
While corporate strategy helps determine the long-range vision for your company, the business environment is constantly changing. NetSuite's financial planning solution provides flexible, "what-if" financial modeling capabilities to help companies meet their budgeting and ongoing forecasting needs. Model and evaluate different financial scenarios to set targets for your annual operating plan, in a bottom-up or top-down manner, and then analyze the variance between actual and projected results to manage business performance.
Real-time Business Intelligence across the Enterprise.
Getting an accurate view of the business is challenging. Information is stored across multiple, disparate systems and manually based data management processes are time-consuming and error-prone. From the executive level to the front lines, effective decision-making is compromised without reliable, timely data.
NetSuite Business Intelligence provides the power of built-in, real-time dashboards, reporting, and analysis across all the integrated processes within the software suite. Realizing true value-added insights, business users gain real-time visibility to identify issues, trends, and opportunities and instantly drill down to the underlying transaction to take action.
Real-time transparency into company performance across all business functions — from summary level to transaction level.
A single version of the truth with all of your data residing in a single source.
Self-serve, personalized experience with easy-to-use reporting tools, without requiring programming or technical resources.
On-the-go access via web browser and mobile device.